3 IN 1 CLEANSING TABLETS
📦 Tillgänglig. Leverans inom 1-3 arbetsdagar
🇸🇪 Designad och utvecklad i Sverige
✅ Pengar tillbaka-garanti
AS SEEN ON
ECO-FRIENDLY CLEANING TABLETS!

Do you remember the weird and unpleasant feeling you had last time you threw away a one-time-use cleaning bottle? With the help of our small and biodegradable cleaning tablet, you can simply reuse the spray-bottle you already have at home and drastically decrease your plastic waste! 😊
WHAT'S INCLUDED?
Bathroom cleaning tablet refill pack: 1 tablet
Multi-Purpose cleaning tablet refill pack: 1 tablet
Glass & Mirror cleaning tablet refill pack: 1 tablet
WHY SKOSH?
No plastic waste!

Low CO2 emissions!

Wrapped in paper packaging!

No toxic ingredients!
SAY GOODBYE TO PLASTIC AND HELLO TO OUR CLEANING TABS!
When choosing our Eco-Friendly cleaning tablets you actively prevent the sale of one plastic bottle. If you have a bottle you can reuse at home then choose our refill tabs. We offer sustainable cleaning solutions for Bathroom, Multi-Purpose, and Glass & Mirrors.
3 tabs leave you with 1,5 liters of cleaning liquid!
HOW DOES IT WORK?
Simply fill your bottle with 500 ml of tap-water. Warm water is preferable in order to accelerate the dissolution progress. Secondly, you just drop the tablet into the water and let it dissolve. After a couple of minutes, you can screw the nozzle back on and you are ready to clean as usual - but this time without plastic waste!
3 IN 1 REFILL PACK
Get all of our three cleaning tablets in one! The pack consists of 1x Bathroom cleaning tablet, 1x Glass & Mirror cleaning tablet, and 1x Multi-Purpose cleaning tablet. The eco-friendly cleaning tablets are packed in a brown paper bag which can be recycled without any problems! Each tab is packed individually to protect it from external moisture and air.
Customer Reviews
04/14/2021
Anneli B.

Germany
I recommend this product
Best cleaning tabs in town! I simply love them!
I absolutely love Skosh cleaning tabs. The bathroom cleaning works perfect on the chalk and lime stone in my bathroom, and I am daily using the Glas & Mirror to clean my mirrors - without stains! The multi purpose is however my favorite, it even works on horrible grease on the stove! The one who does not already use Skosh is definitely missing out on amazing cleaning agents, and best thing is the environmental friendliness!
04/10/2021
Anonymous

Sweden
I recommend this product
Prefer the multi purpose and bathroom ones
I do like the multi purpose and the bathroom tablets, they are not miracle products but they work fine and are probably on the same level as any other cleaning products. However, the glass and mirror tablet leaves streaks all over the surfaces and I need to work quite roughly with a glass and mirror microfiber cloth to get them out.
04/08/2021
Anonymous

Sweden
I recommend this product
Love it!
Good way of testing the different tabs. I love all 3 of them!!
MS
02/05/2021
Marcus S.

Sweden
I recommend this product
Fantastic product making me more enviromental friendly
Fast delivery, nice packaging. Easy use. Smells good. Works great. 10/10. I wish everyone would use this instead of buying bad big plastic bottles with bad chemicals.
01/06/2021
dylan s.
Lund, Skåne County, Sweden
Good eco-friendly alternative!
Very natural smell and simple to use. Definitely a recommendation for anyone who is searching for an eco-friendly cleaning option.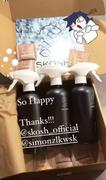 Hej Dylan, thank you for the kind feedback! We tried our best to make the fragrance of our cleaning liquids as natural as possible so we are glad you liked it :)
How does it work? 
It's as simple as 1-2-3, literally:
1. Fill your reusable cleaning spray bottle with 500ml tap water.
2. Drop in your Skosh cleaning tablet and let it dissolve for 5 minutes.
3. Screw the nozzle back on and you are ready to clean, but this time without plastic waste!
What are the tablets made of?

The main active ingredients are food-grade citric acid, sodium (hydrogen) carbonate, anionic surfactants, pH-regulators, perfume, and stainless colouring. The amounts for each ingredient vary depending on the cleaning area.

Skosh products are 100% vegan and biodegradable!

How effective does it clean?

Our cleaning products have undergone extensive tests and have been found to be very efficient and powerful! Each tablet (Multi-Purpose, Bathroom, and Glass & Mirror) has its own unique formula with optimised pH levels and ingredients for an efficient cleaning performance. It is our highest goal to produce cleaning products that are perfect for everyday use, which effectively remove everyday dirts while simultaneously protecting the environment. 

Do the tablets have a fragrance/ scent?

The Multi-Purpose cleaner has a flowery and spring-like scent.

The Bathroom cleaner has a fresh lemon/ lime scent. 

The Glass-& Mirror cleaner has a fresh scent of sea-breeze


How long does one tablet lasts after it has been dissolved?

You can use our cleaning tablets for at least 6 months after they have been dissolved without a reduction of the cleaning effect.

Why Skosh cleaning tablets?


With our sustainable cleaning tablets we reduce plastic waste, CO2 emissions and toxic ingredients from household cleaning products. The name Skosh originates from Japanese, meaning "a little bit", which supports our vision of making the world more sustainable one Skosh at the time. 

If you want the learn more about the team, visit our About us page or our Sustainability page
To search the full and comprehensive FAQ section, click Here.
All our cleaning tablets are made from environmentally friendly ingredients that are not harmful to the environment and biodegradable. To optimize the cleaning efficiency, we were careful to create the optimal pH level needed for each tablet.
General cleaning Tablets:
Ingredients: citric acid. sodium carbonate, anionic surfactant (5-15%), perfume, dyes
Bathroom Cleansing Tablets:
Ingredients: citric acid. sodium bicarbonate, anionic surfactant (5-15%), perfume, dyes
Glass & Mirror Cleansing Tablets:
Ingredients: citric acid. sodium bicarbonate, anionic surfactant (5-15%), perfume, dyes